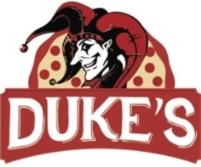 Duke's Pizzeria and Restaurant
ADDRESS : 371 Pittstown Rd., Pittstown, NJ 08867
PHONE NUMBER : 908-730-8515
Specials
Wildcard Weekend Specials
Soup:
Chicken Noodle Soup
Appetizer:
Yellowfin Tuna Salad

Pan Seared Yellowfin Tuna, seared rare, and served over Mixed Greens with Kalamata Olives, Red Onions and Roasted Red Peppers and drizzled lightly with a Balsamic Glaze.
Entrées:
Capellini Primavera with Shrimp

Shrimp, Green & Yellow Squash, Broccoli, Roasted Red Peppers and Fresh Herbs served over Capellini (Angel Hair) pasta in a White Wine Tomato Sauce.
Flounder Francaise

Egg dipped Flounder filet served in a Lemon White Wine sauce served over a bed of Linguini.
Chicken with Spinach and Mushrooms

Chicken, Spinach and Mushrooms sauteed in a roasted Garlic Demi-Glace. Served with a side of Roasted Potatoes and Mixed Vegetables.
Dessert:
Chocolate Lava S'mores Cake

Cannoli

Click Here to View This Weekends Specials
Click Here to Place Your Take-Out Order Online