Compatibility Improvements!
Hi Everyone!
To make the best of your Publish and Promote experience, we've made some changes to the Promote content editor. The Article Toolbar will now be limited to only a handful of tools. We understand that some of the removed tools will be missed, but rest assured we have put a lot of thought into it with the goal of making your content as web-friendly as possible.
Your websites are predefined to display content in a certain way through stylesheet formatting that you can't see. These styles are visible throughout all of the existing content on your website. What this means is, no matter how you post the content, it will always match your website's underlying theme. As for social media networks and blogs, styling often comes at a cost. It is impossible to display one piece of content in multiple different ways to various sites, and doing so causes errors and will hurt your content's quality. The options we've removed are those that can hurt the quality of your posts.
We have selected the most useful and web-friendly tools to make available for the Promote Module. This update will serve to bring a cleaner look to article content and limit issues related to formatting.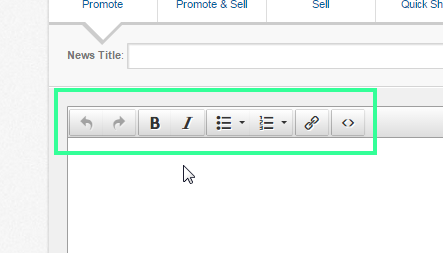 As always, let us know if you have any questions and we would be happy to help!
Best Regards,
Your EggZack Client Care Team
ezhelp@eggzack.com
888.344.9225
Find us on: Facebook Twitter LinkedIn
More Local Sales Guaranteed.